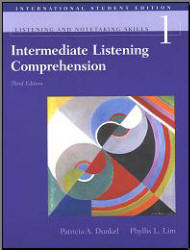 Intermediate Listening Comprehension is the first volume in this groundbreaking listening and notetaking series of THOMSON.
This book is designed to familiarize students with the major rhetorical patterns of formal, spoken English.
Lectures and readings from across the curriculum (history, science, anthropology, American studies, and language arts) provide stimulating content-based material for developing comprehension, notetaking, and academic study skills. Carefully sequenced progression of activities, spiraled rhetorical patterns, vocabulary, and structures, integrated speaking practice, pre- and post-listening activities.
The third edition of this groundbreaking listening and notetaking series includes videotaped lectures in DVD . Now teachers can use the audio program with the support of video simulation of an academic lecture experience. Many new and updated lectures with high-interest topics are included.
– This book includes 5 units, focus on: chronology, process, classification/definition, comparison/contrast, causal analysis.
– 8 CDs include
CD1 (unit 1- chapters 1,2), CD2 ( unit 1- chapter 3, unit 2- chapter 4), CD3 ( unit 2- chapters 5,6), CD4 ( unit 3- chapters7,8), CD5 ( unit 3- chapter 9, unit 3- chapter 10), CD6 ( unit 4- chapters 11,12), CD7 ( unit 5- chapters 13,14), CD8 (unit 5- chapter 15).