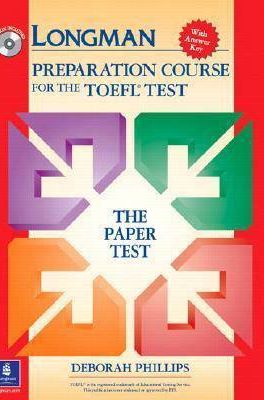 Skills– Strategies– Confidence. This book/CD-ROM package gives students all the tools they need to succeed on the TOEFL(r) paper-based test. Providing both a comprehensive language skills course and a wealth of practice for all sections of the paper test, the "Longman Preparation Course" is appropriate for courses in TOEFL(r) test preparation or as a supplement to more general ESL courses.
In the Student Book:
Complete language skills instruction for skills tested on both the TOEFL(r) paper test and the Test of Written English.
Longer reading passages that reflect the latest testing format. Diagnostic pre-tests and evaluation post-tests for each section that allow students to identify their strengths and weaknesses.
Practice exercises for each of the language skills that maximize understanding and retention.
Five complete Practice Tests that familiarize students with the actual test format and timing.
In the CD-ROM:
An additional 1,450 test questions in both practice sections and three more simulated tests.
Pop-up explanations to enhance understanding.
Easy-to-use scoring and record keeping to monitor progress.
A separate audio program– available on your choice of cassettes or CDs– includes the complete materials from the Listening Comprehension section and Complete Tests in the text.