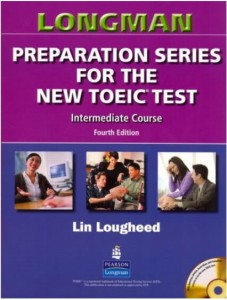 Giáo trình này cung cấp cho người học những kỹ năng, phương pháp, sự luyện tập và sự tự tin cần thiết để đạt điểm cao trong kỳ thi Toeic. Intermediate Course là giáo trình luyện thi Toeic lý tưởng dành cho những học viên muốn đạt điểm Toeic từ 300 đến 600. Tài liệu mới được trình bày theo dạng thức của đề thi Toeic mới.
Các phương pháp và kỹ năng làm bài từng bước một giúp nâng cao kết quả trong mỗi phần của đề thi mới. Hơn 1000 đề mục thực hành được biên soạn theo dạng thức và nội dung của đề thi mới. Đĩa CD gồm có phần Listening Comprehension Review. Audioscript trình bày toàn bộ phần nghe của chương trình. Hai bài ôn thi có độ dài bằng bài thi Toeic, một cho phần Listening Comprehension và một cho phần Reading. Hai bài thi thử hoàn chỉnh có kèm answer sheet của dạng bài Toeic, dùng để phân tích hoặc đánh giá trình độ của người học nhằm trợ giúp người học làm bài thi Toeic tốt hơn.
Contents:
Listening Comprehension
Part 1: Photos
Part 2: Question-Response
Part 3: Conversations
Part 4: talks
Listening comprehension review Reading
Part 5: incomplete sentences
Part 6: Text completion
Part 7: Reading comprehension
Practice tests
Answer sheets
Audioscripts
Answer keys and conversion charts.
Download Now:
Currently the payment gateway is having problems. Please contact us if you need to buy books.

Đối với khách hàng ở Việt Nam: Liên hệ trực tiếp với Admin để thực hiện mua hàng bằng cách chuyển khoản ngân hàng nội địa.
Note:
When using "FAST DOWNLOAD" you will get all the files listed in the "SLOW DOWNLOAD" section.
Password Extract: tienganhedu.com


Frequently asked questions (Q&A)




Contact (Report Broken Link) ---- Copyright Owner (DMCA)