Download Oxford Guide to English Grammar (PDF), Oxford University Press.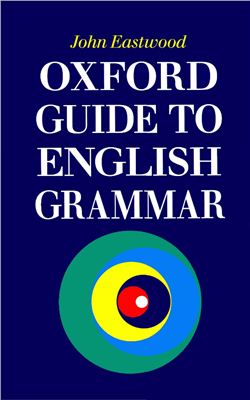 The book is thorough in its coverage but pays most attention to points that are of importance to intermediate and advanced learners of English, and to their teachers. It will be found equally suitable for quick reference to details and for the more leisured study of broad grammar topics.
A useful feature of the book is the inclusion of example texts and conversations, many of them authentic, to show how grammar is used in connected writing and in speech.Sentence and text
English grammar
The simple sentence
Statements, questions, imperatives and exclamations
Questions and answers
Leaving out and replacing words
Information and emphasis
Spoken English and written EnglishVerb forms
The verb phrase
Verb tenses and aspects
The future
Be, have and do
Modal verbs
The passiveInfinitive, gerund and participles
The infinitive
The gerund
ParticiplesThe noun phrase
Nouns and noun phrases
Agreement
The articles: a/an and the
Possessives and demonstratives
Quantifiers
Pronouns
Numbers and measurementsAdjectives, adverbs and prepositions
Adjectives
Adverbials
Comparison
Prepositions
Phrasal verbs and patterns with prepositionsMain clauses and sub clauses
Sentences with more than one clause
And, or, but, so etc
Adverbial clauses
Conditional clauses
Noun clauses
Direct and indirect speech
Relative clausesWord forms
Word-building
Word endings: pronunciation and spelling
Irregular noun plurals
Irregular verb formsAppendix
American English
Glossary
Index
Currently the payment gateway is having problems. Please contact us if you need to buy books.

Đối với khách hàng ở Việt Nam: Liên hệ trực tiếp với Admin để thực hiện mua hàng bằng cách chuyển khoản ngân hàng nội địa.
Note:
When using "FAST DOWNLOAD" you will get all the files listed in the "SLOW DOWNLOAD" section.
Password Extract: tienganhedu.com


Frequently asked questions (Q&A)




Contact (Report Broken Link) ---- Copyright Owner (DMCA)