Collins English for work: Workplace English 2011 – 2(2012). Schofield James, HarperCollins Publishers.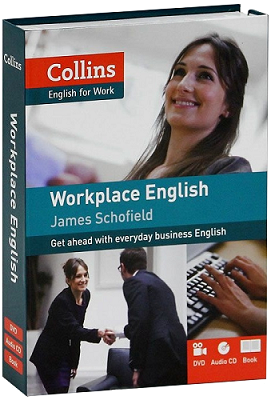 Collins Workplace English  :A self-study course for elementary-level working adults who need English in the workplace. Designed to equip office workers, receptionists, PAs and administrators with the key vocabulary they require to speak and understand English on the phone, when greeting foreign visitors, making meeting and travel arrangements and dealing with problems. * 24 compact units cover main areas of office life such as telephoning, answering a call, meeting and greeting visitors, apologising for a delay and conducting small talk. * Each 4-page unit includes an easy-to-follow photo story that deals with the topic of the unit and introduces key functional language. * The pocket-sized course book also contains vocabulary lists for quick reference, practical examples of typical emails, an answer key and a pronunciation guide to further aid the self-study learner. * The audio CD provides valuable listening practice to accompany each unit. * The DVD contains filmed dialogues presenting the model language.
Collins Workplace English 2:Do you want to communicate confidently in English at work? Learn English with Tom Field, a project manager at Lowis Engineering. He attends meetings, gives short presentations, participates in video and phone conferences and writes emails for different business situations. In the Workplace English 2 self-study pack you can follow Tom's daily life at his office and learn the English you need for your everyday work.
Watch or listen to Tom to learn the language of business;
Have fun with practice activities;
Use the key phrases in your own work life.
Units cover: Giving presentations, Assigning tasks, Teleconferencing, Video conferencing, Emailing, Conducting small talk.
Twelve videos featuring different business situations Audio includes conversations and exercises.
Full colour book with 24 units and reference section including:
key words;
phrases for speaking and writing;
answer key
audioscript;
grammar reference CEF level: A2 (Pre-intermediate).
Download Now: