Gibbons A., Whiteley S. Contemporary Stylistics: Language, Cognition, Interpretation. Edinburgh: Edinburgh University Press, 2018.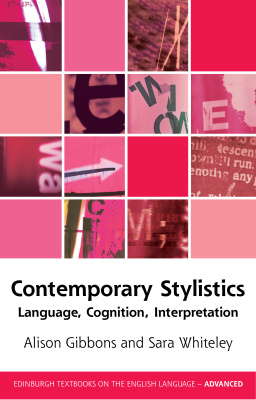 Provides a clear introduction to the key terms and frameworks in cognitive poetics and stylisticsHow do texts create meaning? How do we arrive at our textual interpretations? Why do we become 'lost in a book' or feel deep emotion in response to a literary character? Through close attention to the way texts are written and the language they use, as well as what we know about the human mind, 'Contemporary Stylistics' provides readers with the tools to begin answering these questions. In doing so, it introduces the theoretical principles and practical frameworks of stylistics and cognitive poetics, supplying the practical skills to analyse your own responses to literary texts. Including innovative activities for students and with case studies of work by writers like Dylan Thomas, EL James and Kazuo Ishiguro, this is a detailed analysis of contemporary stylistics that offers both historical contextualization of the discipline and points towards its possible future direction.Key Features:Introduces the key terms for each contemporary stylistic frameworkOutlines the foundations of the discipline and addresses cutting-edge developments such as reader response research, corpus methods, multimodality and reader emotion Contains practical analyses, innovative exercises for students, and further reading suggestions in each chapterAddresses the recent attention to multimodal and digital literature and research into empiricism and emotionEach topic is explored through original analyses of a wide range of texts, including poetry, prose, dialogue, song lyrics, political discourse, and linguistic transcriptsThere are stylistic and cognitive poetic analyses through the book. The key case studies include:'The Canal' Lee Rourke (2010)'Zang Tumb Tumb' by Marinetti (1914)'River in Spate' by Louis MacNeice'Under Milk Wood' by Dylan Thomas (1954)'Space Sonnet & Polyfilla' by Edwin Morgan (1977)'In Defense of Our Overgrown Garden' by Matthea Harvey (2000)'House of Cards"What is the What' by Dave Eggers (2006)'Ash Wednesday' by Ethan Hawke (2002)'Fresh Meat"Fifty Shades of Grey' by E. L. James (2012)'Received Pronunciation' by Sally Goldsmith (2012)'The house is not the same since you left' by Henry Normal (1993)'The Lives of Others' by Neel Mukherjee (2014)'My Name is Lucy Barton' by Elizabeth Stroud (2016)'How to Get Filthy Rich in Rising Asia' by Mohsin Hamid (2013)'The Unconsoled' by Kazuo Ishiguro (2005)'The One Ronnie"The Girl on the Train' by Paula Hawkins (2015)'I Am The Song' by Charles Causley'Hypothetical' by Maria Taylor'This is the Poem in which I Have Not Left You' by Julia Copus (2012)'13, rue Therese' by Elena Mauli Shapiro (2011)'Illuminae' by Amie Kaufman and Jay Kristoff (2015)'Karen' by Blast Theory (2015)'Blood Story' by Melvin BurgessContents :Cover
Title Page – Contemporary Stylistics
Copyright
Contents
Figures
Tables
Permission acknowledgements
Acknowledgements
Introducing contemporary stylistics
Contemporary stylistics
Literature as language
Foregrounding
Phonemes to sound patterning
Morphemes to words
Phrase to sentence
Register, lexical semantics, and cohesion
Literature as discourse
Dialogue and spoken discourse
Speech, thought, and narration
Modality and point of view
Transitivity and ideology
Varieties and invented languages
Text as cognition
Figure and ground
Deixis and deictic shift
Schemas, scripts, and prototypes
Cognitive grammar and construal
Reading as mental spaces
Conceptual metaphor and conceptual integration
Text-worlds
Negation and lacuna
Reading as experience
Analysing the multimodal text
Understanding emotions
Reading as data
Corpus stylistics
Investigating readers
Conclusion
Future stylistics
References
Index
No Ads, 1 Links (Drive), No Waiting For Time
Currently the payment gateway is having problems. Please contact us if you need to buy books.

Đối với khách hàng ở Việt Nam: Liên hệ trực tiếp với Admin để thực hiện mua hàng bằng cách chuyển khoản ngân hàng nội địa.
Note:
When using "FAST DOWNLOAD" you will get all the files listed in the "SLOW DOWNLOAD" section.
Password Extract: tienganhedu.com


Frequently asked questions (Q&A)




Contact (Report Broken Link) ---- Copyright Owner (DMCA)