Free Download Samuel Daison. Crack the IELTS' myth (International Edition, 2012) PDF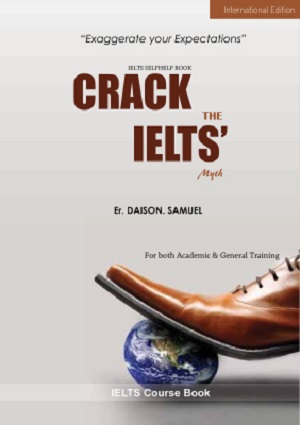 This is a resource, collected from other resources to form a complete resource to help you to generate your dream resources. For example; two molecules of hydrogen and one molecule of oxygen combined in a suitable reaction to form water. Water can form any shape, the shape of water determined by the material used to hold it. Similarly, there is no specific way to think the following resource; it all depends on your mentality and way of thinking to generate new idea that is most suitable for you.
Even though this books is exclusively prepared for IELTS test takers but can be used as a bridge between International English and Practical communication. Communication is the keyword in corporate world, what you can do without the ability to communicate properly.
So, this book is designed not only for IELTS test takers but also for all English readers from high school to colleges, universities to work desk. Professionals can't survive with out right way of communication; express their ideas and instruction to implement, evaluates their skills.
IELTS – proficiency test is mandatory because of lack of confidence in communication. If you study the right methods of communication then why should you fear to present yourself in public? Studying basic grammar and tense is good and important but you should know where and how to apply it.
Download Now: