Download Cambridge Empower (Second Edition) PDF, Sources 2022. Empower Second Edition combines up-to-date content from expert authors with validated, CEFR-aligned assessment to measure progress.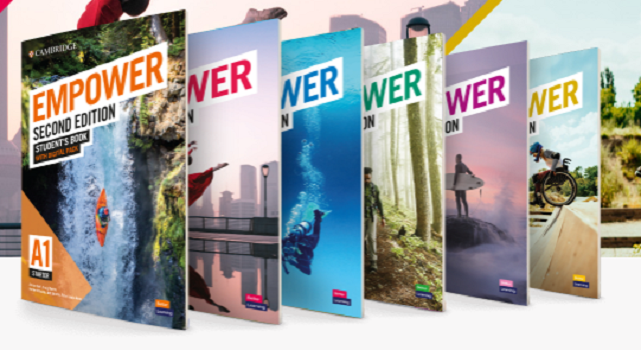 Your adult and young adult learners will develop all four skills through this six-level British English course, further enhanced with online content in our Cambridge One platform. The robust assessment, integrated into the course, means learners are always working towards a measurable goal.
Waiting for PayPal...
Validating payment information...
Waiting for PayPal...


Empower (2e) A1 Student's Book.pdf
Empower (2e) A1 Workbook.pdf
Empower (2e) A1 Teacher's Book.pdf
Empower (2e) A1 Audio Files and Captions, Audio Scripts
Empower (2e) A1 Video activities
Empower (2e) A1 Photocopiables + Teacher's notes
Empower (2e) A1 ESOL resources
—
Empower (2e) A2 Student's Book.pdf
Empower (2e) A2 Workbook.pdf
Empower (2e) A2 Teacher's Book.pdf
Empower (2e) A2 Audio Files and Captions, Audio Scripts
Empower (2e) A2 Video activities
Empower (2e) A2 Photocopiables + Teacher's notes
Empower (2e) A2 ESOL resources
Empower (2e) A2 Academic skills and Reading plus
Empower (2e) A2 Tests
—-
Empower (2e) B1 Student's Book.pdf
Empower (2e) B1 Workbook.pdf
Empower (2e) B1 Teacher's Book.pdf
Empower (2e) B1 Audio Files and Captions, Audio Scripts
Empower (2e) B1 Video activities
Empower (2e) B1 Photocopiables + Teacher's notes
Empower (2e) B1 ESOL resources
Empower (2e) B1 Tests
—-
Empower (2e) B1+ Student's Book.pdf
Empower (2e) B1+ Workbook.pdf
Empower (2e) B1+ Teacher's Book.pdf
Empower (2e) B1+ Audio Files and Captions, Audio Scripts
Empower (2e) B1+ Video activities
Empower (2e) B1+ Photocopiables + Teacher's notes
Empower (2e) B1+ ESOL resources
Empower (2e) B1+ Wordlist German.xls
—-
Empower (2e) B2 Student's Book.pdf
Empower (2e) B2 Workbook.pdf
Empower (2e) B2 Teacher's Book.pdf
Empower (2e) B2 Audio Files and Captions, Audio Scripts
Empower (2e) B2 Video activities
Empower (2e) B2 Photocopiables + Teacher's notes
Empower (2e) B2 ESOL resources
—-
Empower (2e) C1 Student's Book.pdf
Empower (2e) C1 Teacher's Book.pdf
Empower (2e) C1 Audio Files and Captions, Audio Scripts
Empower (2e) C1 Video activities
Empower (2e) C1 Photocopiables + Teacher's notes
Empower (2e) C1 Academic Skills