Abbott E. English Lessons for English People. Edwin Abbott Abbott , sr. John Robert Seeley; — Roberts Bros., —1898. – 303 p.(text, all – 340 p.), English, (—Little, Brown., —1901; (Republ. 2012).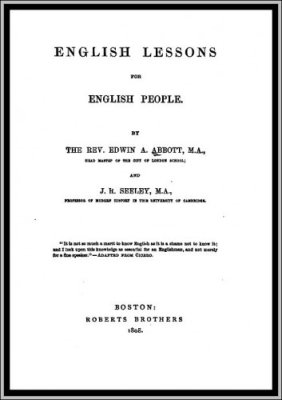 This book is not intended to supply the place of an English Grammar. It presupposes a knowledge of Grammar and of English idiom in its readers, and does not adress itself to foreigners, but to those who, having already a familiar knowledge of English, need help to write it with taste and exactness.
Currently the payment gateway is having problems. Please contact us if you need to buy books.

Đối với khách hàng ở Việt Nam: Liên hệ trực tiếp với Admin để thực hiện mua hàng bằng cách chuyển khoản ngân hàng nội địa.
Note:
When using "FAST DOWNLOAD" you will get all the files listed in the "SLOW DOWNLOAD" section.
Password Extract: tienganhedu.com


Frequently asked questions (Q&A)




Contact (Report Broken Link) ---- Copyright Owner (DMCA)