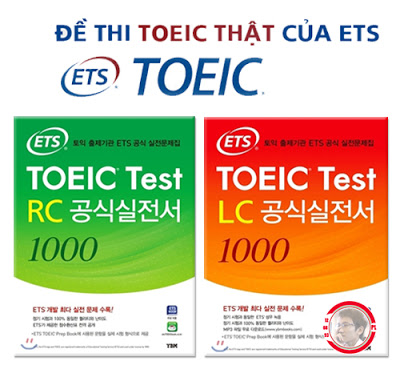 Bộ sách ETS Toeic 1000 là một trong những bộ sách về đề thi toeic được soạn thảo bởi ủy quyền của ETS.
Viện Khảo thí giáo dục Hoa Kỳ (ETS) là một tổ chức phi lợi nhuận hoạt động vì sự tiến bộ và công bằng giáo dục thông qua việc nghiên cứu và biên soạn các chương trình kiểm tra, đánh giá ngôn ngữ với quy mô lớn, trong đó có các bài thi được chấp nhận rộng rãi trên toàn thế giới như TOEFL, TOEIC, GRE, SAT…..
ETS ra chính là đơn vị ra đề thi TOEIC, do đó, sách luyện thi toeic được họ ủy quyền xuất bản sẽ có nội dung giống nhất với đề thi thật.
ETS Toeic 1000 RC + LC PDF gồm 2 cuốn Toeic Test LC 1000 và Toeic Test RC 1000. Mức độ khó của các đề thi TOEIC trong 2 cuốn sách này giống 99% với đề thi thật. Giọng đọc trong cuốn LC gồm nhiều giọng của các nhân vật đến từ các quốc gia khác nhau, đây chính là cơ hội tốt để những bạn ôn thi TOEIC không bị bỡ ngỡ vì phát âm khác nhau của các câu hỏi trong bài thi TOEIC Listening.
ETS Toeic Test 1000 nằm trong top những cuốn sách luyện thi Toeic bán chạy nhất tại Hàn Quốc.
Bộ sách gồm 10 đề Reading Comprehension và Listening Comprehension của kì thi TOEIC.
Currently the payment gateway is having problems. Please contact us if you need to buy books.

Đối với khách hàng ở Việt Nam: Liên hệ trực tiếp với Admin để thực hiện mua hàng bằng cách chuyển khoản ngân hàng nội địa.
Note:
When using "FAST DOWNLOAD" you will get all the files listed in the "SLOW DOWNLOAD" section.
Password Extract: tienganhedu.com


Frequently asked questions (Q&A)




Contact (Report Broken Link) ---- Copyright Owner (DMCA)