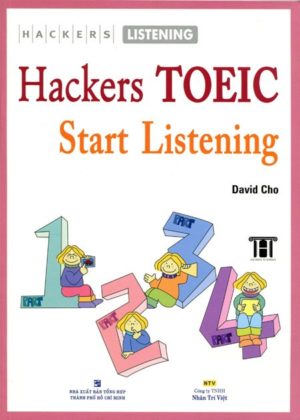 Free Download Hackers TOEIC Start Listening (Book + Audio CD)
Hackers TOEIC Start Listening aims at helping TOEIC beginners establish a "foundation of English through TOEIC". It is generally known that a magnificent house rests on a strong foundation, and a good command of English also needs a solid foundation. In order to improve and achieve a high TOEIC score, learners should build up their English proficiency from the very beginning. Success in the TOEIC test as well as in communication can only be achieved by a good linguistic ability, constant efforts, correct methods of learning, and practical English materials.
Hacker TOEIC Start Listening is an introductory book which provides learners with the fundamentals which are frequently found in the TOEIC Listening test. First and foremost, some problem sounds in British and American pronunciation are pointed out to draw learners' attention. Next, basic grammar lessons which often occur in each part of the TOEIC Listening test are briefly introduced. Typical types of questions are carefully analyzed, and listening strategies for choosing the correct answers are clearly presented. Addditionally, the book is specially designed in a way that learners can apply a specific study plan which may suit their individual level of English. Importantly, a variety of English accent is selevtively introduced so that learners have ample opportunity to familiarize themselves with the accents found in the actual TOEIC Listening test. Last but not least, illustrative pictures in the sections of common vocabulary, expressions, and model conversations will certainly bring a lot of interest to those using this book. Learners can either start studying all the sections in order or refer to a particular part they want to focus on.
Hopefully, you will find this book truly practical and helpful as you are actually having a good beginning with the assistance of Hackers TOEIC Start Listening and Hackers TOEIC Start Reading. Strongly believe that you will soon achieve your expected goal not only in your coming TOEIC test but also in daily communication.
Full Set: 
[su_table]
| | |
| --- | --- |
| Book: | [su_button url="https://drive.google.com/file/d/0B3uxHtA5xFPOY2xHbWlVVHdyUXc/view?usp=sharing"]Drive[/su_button] |
| Audio CD: | [su_button url="https://drive.google.com/file/d/0B3uxHtA5xFPObnd1ZnRlSVZZa3c/view?usp=sharing"]Drive[/su_button] |
[/su_table] [affegg id=119]