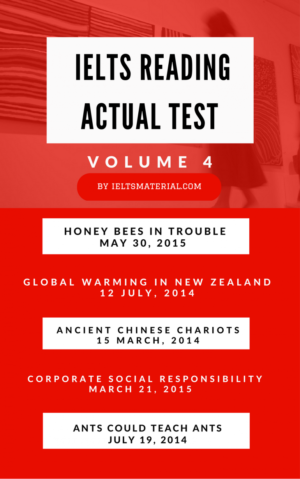 Free download IELTS Reading Recent Actual Tests Volume 4
IELTS Reading Actual Test series is one of the "must-have IELTS books" for all IELTS candidates. It accumulates the authentic IELTS reading tests from IDP and British Council from 2006 – 2015.
me of these tests re-appeared in the real IELTS. Therefore, this IELTS reading book is one of the best resources to help you prepare for the Reading section of IELTS exam.
Each book in IELTS Reading Actual Recent Test series has 6-8 reading tests.
The last part of the book is the answer keys to help students easily track your results and polish up your reading skills.
IELTS Reading Actual Test Volume 4 (the latest edition) was published in July 2015. It includes 6 authentic reading tests from 2011 – 2015.
Main Content
Test 1
The impact of the potato
Ancient Chinese Chariots
Stealth Forces in Weigh Loss
Test 2
Andrea Palladio: Italian Architect
Corporate Social Responsibility
The Significant Role of Mother Tongue in Education
Test 3
Voyage of Going: Beyond the Blue Line 2
Does IQ Test Prove Creativity?
Monkeys and Forests
Test 4
T-rex: Hunter or Scanvenger?
Leaf-cutting Ants and Fungus
Honey Bees in Trouble
Test 5
Ants Could Teach Ants
The Development of Plasticcs
Global Warming in New Zealand
Test 6
Computer games for Preschoolers: Nintendo's Research and Design Process
The History of Pencil
Motivating Drives.
Currently the payment gateway is having problems. Please contact us if you need to buy books.

Đối với khách hàng ở Việt Nam: Liên hệ trực tiếp với Admin để thực hiện mua hàng bằng cách chuyển khoản ngân hàng nội địa.
Note:
When using "FAST DOWNLOAD" you will get all the files listed in the "SLOW DOWNLOAD" section.
Password Extract: tienganhedu.com


Frequently asked questions (Q&A)




Contact (Report Broken Link) ---- Copyright Owner (DMCA)