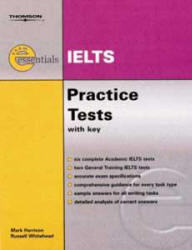 Free Download Thomson exam essentials: IELTS Practice Tests with Key and CDs.  Harrison, M & Whitehead, R – Book(PDF)+Audio CD(Mp3).
Description: Thomson Exam Essentials is a major new test preparation series that provides students with a essential combination of exam information, task guidance and exam level practice.
IELTS Practice Tests covers all four Modules of the IELTS exam:
– Six complete practice tests cover a wide range of typical IELTS topic areas.
– Task guides and Step-by-step guides in Tests 1 and 2 explain how best to approach each task type
– General Training section provides additional Reading and Writing Modules for two tests.
[su_table]
| | |
| --- | --- |
| Book: | [su_button url="https://yadi.sk/d/bkqcDE8iszjLE"]Yadi[/su_button] |
| Audio CD: | [su_button url="https://drive.google.com/file/d/0B04JwZNoVh2RSkhLWlB0ZjFZUzA/view?usp=sharing"]Drive[/su_button] |
[/su_table]