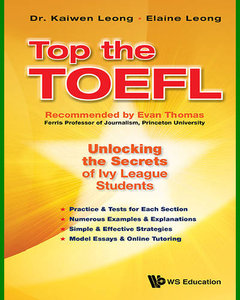 Top the TOEFL is a TOEFL book like no other. It recognizes an essential key to the problem: students who struggle with the TOEFL have problems mastering English. Hence, while other TOEFL books teach strategies with long wordy explanations that hardly make sense to the average student, Top the TOEFL focuses on teaching students in the most intuitive way possible: examples. Each unit is systematically broken down to make it simple for any student to Top the TOEFL.
Currently the payment gateway is having problems. Please contact us if you need to buy books.

Đối với khách hàng ở Việt Nam: Liên hệ trực tiếp với Admin để thực hiện mua hàng bằng cách chuyển khoản ngân hàng nội địa.
Note:
When using "FAST DOWNLOAD" you will get all the files listed in the "SLOW DOWNLOAD" section.
Password Extract: tienganhedu.com


Frequently asked questions (Q&A)




Contact (Report Broken Link) ---- Copyright Owner (DMCA)