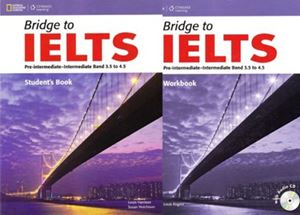 Bạn có biết kênh giáo dục/trang thông tin National Geographic (NatGeo) nổi tiếng trước nay ? Giờ đây National Geographic Learning phối hợp cùng CenGate Learning để xuất bản một cuốn sách Pre-Ielts với tên gọi Bridge to IELTS (Cầu nối tới IELTS), phiên bản Pre-intermediate – Intermediate Band 3.5 to 4.5 dành cho các bạn học tiếng Anh với mục đích chinh phục kỳ thi Ielts, tuy nhiên trình độ còn hạn chế (ở mức 3.5 đến 4.5).
Nếu bạn muốn luyện thi Ielts, mà trước giờ vốn tiếng Anh ít ỏi của bạn chỉ được trau dồi tại trường với những tiết học rời rạc, nhàm chán, hoặc một chút vốn tiếng Anh tổng quát ở mức độ Pre-Intermediate hoặc Intermediate thì đây là một trong những cuốn sách bạn có thể dùng để bắt đầu hành trình Ielts cho bản thân.
Bridge to IELTS is specially designed for students planning to take an IELTS preparatory course in the future. The course bridges the gap between general English and the IELTS test and helps students to build a solid grammar and vocabulary base, develop reading, writing, writing, speaking and listening skills. It also helps students to understand the IELTS exam by doing IELTS-type tasks and practice activities and develop key study skills.
Features
IELTS-orientated topic-based units: to build students' English in key areas
Bridge to IELTS: to provide exam tips and key information on the exam
Living IELTS: to teach students key functional language related to the test
Writing bank with 12 additional writing lessons
Grammar reference: to provide additional reference and practice.
Download Now:
[su_table]
| | |
| --- | --- |
| Student's Book: | [su_button url="https://drive.google.com/file/d/0B3uxHtA5xFPOUWNZN0VSRWVHS00/view?usp=sharing"]Drive[/su_button] |
| Class CDS: | [su_button url="https://drive.google.com/file/d/0B3uxHtA5xFPOWkJwV2s1Q0tsbGM/view?usp=sharing"]Drive[/su_button] |
| Workbook: | [su_button url="https://drive.google.com/file/d/0B3uxHtA5xFPOTE9QREJ3eUFOTGs/view?usp=sharing"]Drive[/su_button] |
| Workbook CD: | [su_button url="https://drive.google.com/file/d/0B3uxHtA5xFPOZVhIN25IMGhORVk/view?usp=sharing"]Drive[/su_button] |
[/su_table] [affegg id=97]