Expert IELTS Bands 5 – 6 – 7.5 by Longman Pearson (Clare Walsh, Lindsay Warwick, Elaine Boyd, Louis Rogers, Margaret Matthews).The Expert series – provides rigorous exam training for high-achieving students while developing language awareness and communication skills. Expert IELTS is an intensive course for students preparing for the International English Language Testing System (IELTS). Expert IELTS trains students in all parts of the IELTS test, improving their scores and building language proficiency. It helps students stay focused to get the IELTS band score they need to achieve their goals, whether it's to get a better job, get on to a university course or for visa requirements.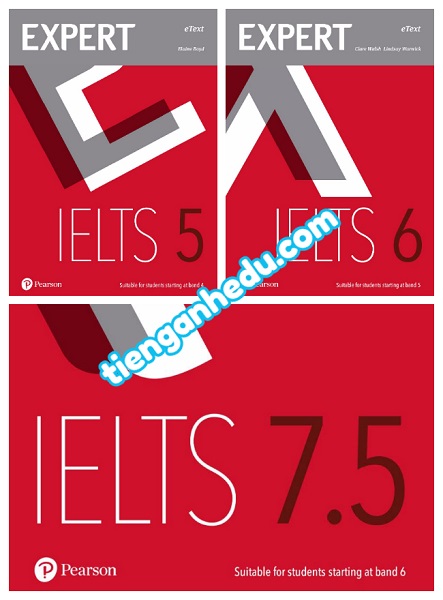 Key Features:

– Ten topic-based modules, divided into test training and test practice, boost students' confidence and help them get the band score they need quickly and efficiently
– Task analysis and Assess and Improve sections help students identify what they have learnt and where they need to improve, engaging them in learning and motivating them as they progress
– Expert Speaking section with two practice test videos and activities featuring real IELTS students helps students understand what to expect in the speaking test and how to be successful
– Expert Writing with test tasks, model answers and key language provides essential preparation for the writing paper
– Grammar reference gives students a more in depth look at the grammar covered
– Test strategies provide students with guidance on how to tackle each test task type.
The student Coursebook includes ten topic-based modules, task analysis and assess and improve sections, an Expert Speaking section, plus other tools to support and nurture learning.
The Teacher's Book provides essential teaching support, with clear guidance on how to make the most of the Coursebook, resources and components to personalise learning for classes and individuals.
MyEnglishLab gives you comprehensive exam information and training online. It includes a full exam practice test, a mock timed test and features interactive practice in all key skills areas.

Expert IELTS 5 eText (Coursebook).pdf
Expert IELTS 5 Student's Resources Book with Key.pdf
Expert IELTS 5 Teacher's Resources Book.pdf
Expert IELTS 5 Coursebook Audio + Video
Expert IELTS 5 Extra Teaching Resources
Expert IELTS 5 Student Resource Book Answers Key + Audio
Expert IELTS 5 Teaching notes and photocopiables
Expert IELTS 5 Test
—
Expert IELTS 6 eText (Coursebook).pdf
Expert IELTS 6 Student's Resources Book with Key.pdf
Expert IELTS 6 Teacher's Resources Book.pdf
Expert IELTS 6 Coursebook Audio + Video
Expert IELTS 6 Extra Teaching Resources
Expert IELTS 6 Student Resource Book Answers Key + Audio
Expert IELTS 6 Teaching notes and photocopiables
Expert IELTS 6 Test
—
Expert IELTS 7.5 eText (Coursebook).pdf
Expert IELTS 7.5 Student's Resources Book with Key.pdf
Expert IELTS 7.5 Teacher's Resources Book.pdf
Expert IELTS 7.5 Coursebook Audio + Video
Expert IELTS 7.5 Extra Teaching Resources
Expert IELTS 7.5 Student Resource Book Answers Key + Audio
Expert IELTS 7.5 Teaching notes and photocopiables
Expert IELTS 7.5 Test
——————–
Expert IELTS (3 Levels) ActiveTeach:
Expert IELTS 5 Active Teach
Expert IELTS 6 Active Teach
Expert IELTS 7.5 Active Teach