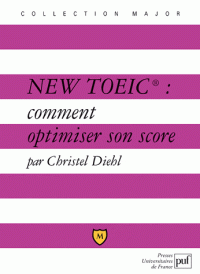 New TOEIC : comment optimiser son score analyse chacune des épreuves qui composent le New TOEIC pour aider les candidats à identifier leurs lacunes. Cet ouvrage contient également : 17 fiches de vocabulaire spécifique au New TOEIC classées par thème (Business trips, Office life, Shopping, etc.) ; 30 chapitres, suivis d'exercices corrigés, consacrés aux points de grammaire qu'il faut connaître pour réussir le test. Les explications inhérentes aux différentes parties du test sont suivies de tests d'entraînement corrigés (l'ouvrage contient plus de 600 questions / réponses). New TOEIC : comment optimiser son score s'adresse en priori aux étudiants et aux cadres préparant le NEW TOEIC mais il a également été conçu pour permettre à chacun de réactiver ou d'approfondir ses connaissances en anglais des affaires, puisque tous les exercices et les documents présentés sont tirés de la vie professionnelle.
Currently the payment gateway is having problems. Please contact us if you need to buy books.

Đối với khách hàng ở Việt Nam: Liên hệ trực tiếp với Admin để thực hiện mua hàng bằng cách chuyển khoản ngân hàng nội địa.
Note:
When using "FAST DOWNLOAD" you will get all the files listed in the "SLOW DOWNLOAD" section.
Password Extract: tienganhedu.com


Frequently asked questions (Q&A)




Contact (Report Broken Link) ---- Copyright Owner (DMCA)