Download Ngữ pháp tiếng anh (English Grammar)- Bùi Ý vs Vũ Thanh Phương (pdf).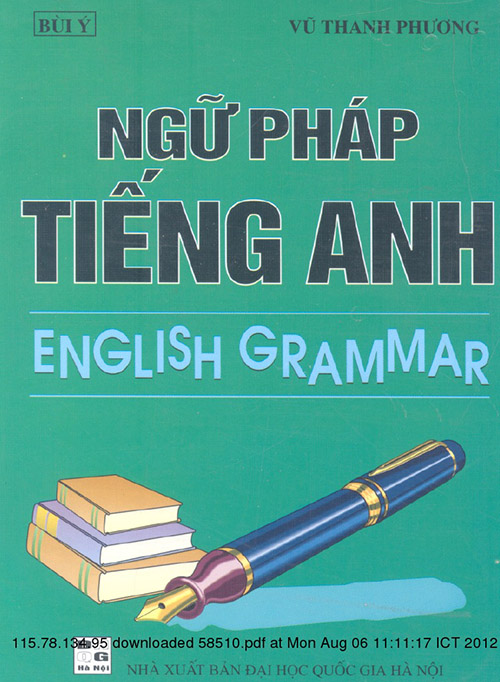 Là cuốn ngữ pháp được biên soạn gồm 3 phần khá nâng cao, cuốn này có lẽ nhằm ôn lại kiến thức ngữ pháp, bởi nó có nhiều bài tập, lí thuyết trình bày khá ngắn gọn, súc tích.
Phần I gồm 11 chương, 31 bài: giới thiệu câu và từ loại + bài tập
Phần II gồm 5 chương, 14 bài: nâng cao hơn về mặt cấu trúc, công thức
Phần III: là đáp án các bài tập khó
(Nếu có điều kiện quý độc giả nên mua bản gốc tại các cửa hàng sách trên toàn quốc để ủng hộ tác giả.)
Download Now Updated:10/4/2021
Currently the payment gateway is having problems. Please contact us if you need to buy books.

Đối với khách hàng ở Việt Nam: Liên hệ trực tiếp với Admin để thực hiện mua hàng bằng cách chuyển khoản ngân hàng nội địa.
Note:
When using "FAST DOWNLOAD" you will get all the files listed in the "SLOW DOWNLOAD" section.
Password Extract: tienganhedu.com


Frequently asked questions (Q&A)




Contact (Report Broken Link) ---- Copyright Owner (DMCA)