The Grammar and Lexis of Conversational Informal English in Advanced Textbooks, Cambridge Scholars Publishing, 2015.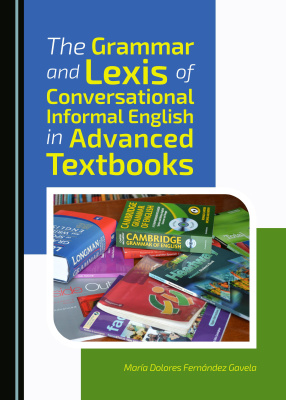 The Grammar and Lexis of Conversational Informal English in Advanced Textbooks defends the view that the acquisition of conversational English depends highly on the kind of materials available to L2 learners. The need to acquire a proficient competence in English is growing exponentially in an incessantly demanding society, but it is the oral skill, and more specifically the ability to communicate in everyday situations, that learners are calling for. The current learning process, nonetheless, is not particularly effective, as is shown in the data collected by the Eurobarometer and published in June 2012, which shows that only 38% of the Europeans surveyed were able to maintain a conversation in English, although 67% believed it to be the most useful language to learn for personal development. The present study supports the idea expressed in The Common European Framework of Reference for Languages, which states that a language is learnt "reactively, following the instructions and carrying out the activities prescribed for them by teachers and by textbooks" (2001: 141). Consequently, these materials should reflect the everyday use of informal discourse and allow learners to analyse, understand and interpret the different underlying messages conveyed by means of lexico-syntactic, as well as paralinguistic, elements. The book is divided into seven chapters in which various different linguistic aspects of conversation are dealt with. In the opening chapters, spoken language is presented and approached as a multidimensional entity, particularly as the sum of lexico-syntactic and socio-linguistic elements. The following chapters provide a description of the main characteristics of conversational English based on corpus-informed grammars and publications. The final chapter analyses twenty ESL textbooks in order to determine how corpus data has influenced the materials designed for the acquisition of conversational discourse.
No Ads, 1 Links (Drive), No Waiting For Time
Currently the payment gateway is having problems. Please contact us if you need to buy books.

Đối với khách hàng ở Việt Nam: Liên hệ trực tiếp với Admin để thực hiện mua hàng bằng cách chuyển khoản ngân hàng nội địa.
Note:
When using "FAST DOWNLOAD" you will get all the files listed in the "SLOW DOWNLOAD" section.
Password Extract: tienganhedu.com


Frequently asked questions (Q&A)




Contact (Report Broken Link) ---- Copyright Owner (DMCA)