Download TOEIC Test Prep (pdf, audio). Publisher: LearningExpress, LLC. 2010. 500 page.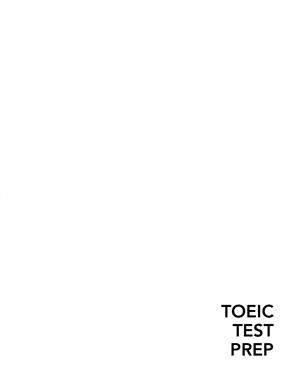 The TOEIC exam, taken by more than 5 million people every year, tests your ability to understand English as used in international business and other professional situations. TOEIC Test Prep provides a streamlined approach to learning everything you need to succeed on this test.
A passing grade on the TOEIC test is required by many businesses and institutions when they are selecting among job candidates whose first language is not English. In TOEIC Test Prep, you'll find four full-length practice tests that are similar in format and question types to the official exam, as well as practice questions and detailed answer explanations to reinforce key concepts. This book provides test takers with an extensive review of reading comprehension and listening skills. This heavily illustrated title also comes with downloadable audio files that offer comprehensive instruction in English language listening comprehension and vocabulary-building tools, including word lists and a pronunciation guide.
Included are:
– Four full-length practice exams to help you gauge where your strengths are and where you may need additional practice
– A complete overview of the TOEIC exam and what you can expect on test day
– Targeted lessons covering listening, reading, writing, and speaking skills
– Word lists and chapter review exercises to help you build a strong vocabulary
Update: 29/1/2021
No Ads, 1 Links, No Waiting For Time