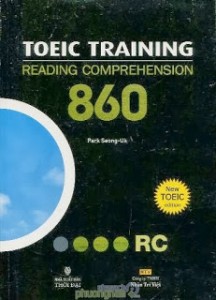 TOEIC TRAINING READING COMPREHENSION 860 is written by Park Seong-Uk who is the expert of teaching TOEIC in Korea. The books is designed to help TOEIC test-takers improveadvanced listening and reading skills. The pattern of the books is as follows:

Training Course A: Studying types of questions.
Parts 5&6 Learning Key Points
Unit 1: Choosing the right word class
Unit 2: Choosing the right word class
Unit 3: Verb forms
Unit 4: Prepositions
Unit 5: Conjunctions
Unit 6: Pronouns
Unit 7: Relative pronouns
Unit 8: Comparisons
Training Course B: Assessing your progress
Part 5&6 Practice Tets
Training Course C: Practising to achieve your desired score – Actual test.
[affegg id=72]
Toeic Training Listening Comprehension 730 (PDF)
Currently the payment gateway is having problems. Please contact us if you need to buy books.

Đối với khách hàng ở Việt Nam: Liên hệ trực tiếp với Admin để thực hiện mua hàng bằng cách chuyển khoản ngân hàng nội địa.
Note:
When using "FAST DOWNLOAD" you will get all the files listed in the "SLOW DOWNLOAD" section.
Password Extract: tienganhedu.com


Frequently asked questions (Q&A)




Contact (Report Broken Link) ---- Copyright Owner (DMCA)