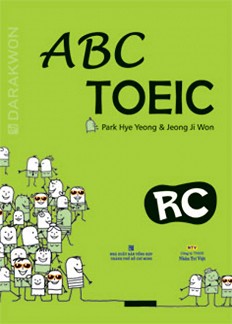 Free Download ABC TOEIC RC – Reading Comprehension ebook
Contents:
Section 1 – Grammar
Chapter 1: Sentence Structures
Chapter 2: Nouns & Pronouns
Chapter 3: Adjectives & Adverbs
Chapter 4: Tenses
Chapter 5: Active and Passive Voices
Chapter 6: To-infinitives
Chapter 7: Gerunds
Chapter 8: Participles
Chapter 9: Conjunctions
Chapter 10: Prepositions
Chapter 11: Relative Pronouns & Relative Adverbs
Chapter 12: Subjunctive Mood
Chapter 13: Agreement
Section 2 – Reading
Chapter 14: Question Types
Chapter 15: Text Types
Answers
…
SET:
[affegg id=123]
Currently the payment gateway is having problems. Please contact us if you need to buy books.

Đối với khách hàng ở Việt Nam: Liên hệ trực tiếp với Admin để thực hiện mua hàng bằng cách chuyển khoản ngân hàng nội địa.
Note:
When using "FAST DOWNLOAD" you will get all the files listed in the "SLOW DOWNLOAD" section.
Password Extract: tienganhedu.com


Frequently asked questions (Q&A)




Contact (Report Broken Link) ---- Copyright Owner (DMCA)