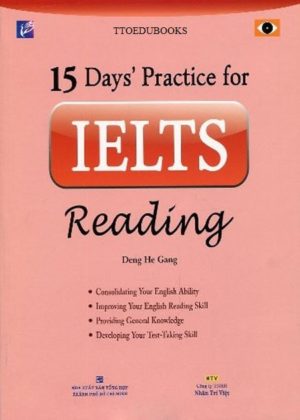 Free Download 15 Days Practice For IELTS Reading
15 Days' Practice For IELTS Reading. You have certainly practised a gread deal to prepare for your actual exam. You have also been exposed to a variety of materials, and have familiarised yourself with the format for the IELTS test. This book, therefore, dose not aim loading you with more practice material on IELTS, but it will sum up the main points so as to enable you to work out an effective plan to finally achieve your desired band in the actual test you are talking.
Day 1: An Overview on the IELTS Reading
Day 2: Overview Questions
Day 3: Exercises on Overview Questions.
[affegg id=2]
Download Now:
Currently the payment gateway is having problems. Please contact us if you need to buy books.

Đối với khách hàng ở Việt Nam: Liên hệ trực tiếp với Admin để thực hiện mua hàng bằng cách chuyển khoản ngân hàng nội địa.
Note:
When using "FAST DOWNLOAD" you will get all the files listed in the "SLOW DOWNLOAD" section.
Password Extract: tienganhedu.com


Frequently asked questions (Q&A)




Contact (Report Broken Link) ---- Copyright Owner (DMCA)