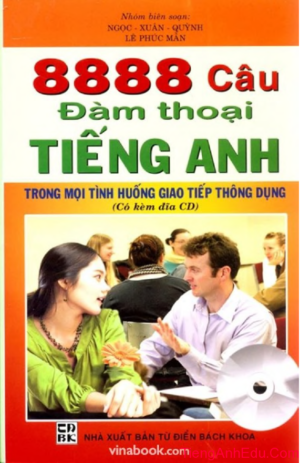 Free Download 8888 CÂU ĐÀM THOẠI TIẾNG ANH THÔNG DỤNG (PDF + AUDIO)
Đây là một trong những cuốn sách được biên soạn rất bài bản, nó cung cấp rất nhiều mẫu đối thoại, giao tiếp trong cuộc sống hằng ngày; từ trường lớp, hội nghị, trò chuyện công sở rồi đến các tình huống xã giao như ở lễ hội hay giã ngoại. Mỗi người có thể tìm thấy ở cuốn sách này.
Tài liệu có 2 tếp file EBook và Audio tương ứng ở mỗi tình huống, với tốc độ đọc chậm rãi, các bạn có thể tập nói theo để luyện phát âm cũng như dễ dàng hơn trong việc ghi nhớ. Chúc các bạn sẽ sớm sớm nâng cao khả năng giao tiếp, phát âm tiếng Anh của bản thân.
Tienganhedu.com nhận thấy đây là một quyển sách rất hay, các bạn hay Download về và từ từ học tập nha. Tích lũy kiến thức là căn bản của sự thành công.
Links Download bên dưới, để lại cmt nếu gặp bất cứ rắc rối trong quá trình Download nha!!
Currently the payment gateway is having problems. Please contact us if you need to buy books.

Đối với khách hàng ở Việt Nam: Liên hệ trực tiếp với Admin để thực hiện mua hàng bằng cách chuyển khoản ngân hàng nội địa.
Note:
When using "FAST DOWNLOAD" you will get all the files listed in the "SLOW DOWNLOAD" section.
Password Extract: tienganhedu.com


Frequently asked questions (Q&A)




Contact (Report Broken Link) ---- Copyright Owner (DMCA)